The "TOTAL FREESTYLE TROPHY" is "THE" most recognized Freestyle Competition in the world with an internationally renowned jury and participants from 15 different countries.
If you want to become "THE" new benchmark in freestyle fitness or if you simply want to test yourself and challenge yourself to progress, this competition is for you!
So… get started!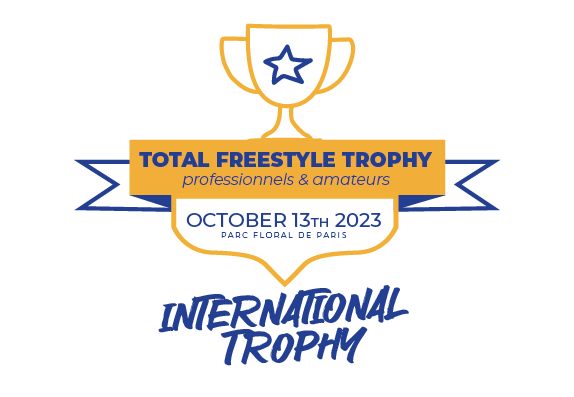 The "Total Freestyle Trophy" is a competition open to fitness professionals and amateurs.
Enthusiasts can obviously come and follow the courses to discover new talents, without participating in the competition.
It has 2 main categories :

« Professional » Category
Any professional, of any nationality, giving lessons or being in training and aged 18 or older as of January 1 of the current year may be in this category.

« Amateur » Category 
Can be in this category any passionate person, of any nationality and without age limit.
This category is therefore divided into 3 subcategories :
« First step » Amateur, for those who participate in a contest for the 1st time,
« Prestige » Amateur, for those over 40,
« Classic » Amateur , for everyone else.

The 1st stage is called the « Marathon».
All competitors will have to take 2 1-hour lessons, one after the other: STEP then HILOW.
If you manage to pass this first stage, head for the "Semi-Final » !
The 2nd stage is the "Semi-Final".
Each PRO semi-finalist gives a 18-minute lesson: STEP or HILOW. The lessons will be allocated by lot and the music will be imposed by the jury.
The AMATEURS semi-finalists will follow the courses taught by the PRO semi-finalists.


The 3rd stage is the "Final".
Each PRO finalist gives a 28-minute lesson: STEP or HILOW. If you pass a STEP course in the semi-finals, you will pass on a HILOW course in the finals and vice versa.
The AMATEURS finalists will follow the courses taught by the PRO finalists.
SINCE 2020, WE ADD A NEW PRODUCT ! THE « GOLDEN BUZZER » !
What's this ? The Jury of Honor may (or may not) use the "GOLDEN BUZZER" to send their "favorite" directly to the final ! 
The "Total Freestyle Trophy" offers rewards to PRO and AMATEURS winners thanks to our PARTNERS.
So? … it's tempting, isn't it ?
HOW TO PREPARE FOR THE COMPETITION?
Total Freestylee gives you the opportunity to put all the odds on your side by offering you quality training in order to best prepare for the competition.
WHO ARE THE MEMBERS OF THE JURY?
The jury will be made up of international Presenters and professionals recognized for their professionalism and objectivity.
Discover the winners of previous editions of the TF Trophy competition. This year, who will be next?